If you haven't already done so don't forget to register for our 2018 MCAR Installation Luncheon and our GAD Holiday Luncheon.
THANK YOU to our 2018 Installation Sponsors!!!
Supporting Sponsor: The Monterey Herald
Champagne Reception Sponsor: KW Coastal Estates
Table Sponsors:
Blue Adobe Mortgage
Chase Home Loans
Sotheby's International Realty
StormND Simple IT Co.
Wells Fargo Home Mortgage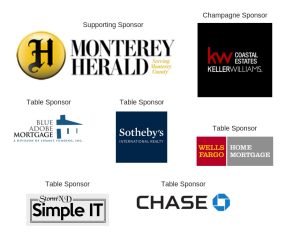 THANK YOU to our 2018 GAD Holiday Sponsors!
GAD Holiday Luncheon Sponsors:
Women's Council of Realtors-Monterey Peninsula
Treehouse Mortgage Group